Exterior surface cleaning
We specialise in cleaning building exteriors and any exterior surface. The innovative technology that we use is ideal for cleaning all kinds of exterior surfaces.
Contact Us
Watch the video
Profesional Exterior Cleaning
We are a professional exterior cleaning company providing nationwide services for over seven years. We offer first-class communication, fair prices and realistic time frames. All our cleaning operatives are fully trained in health and safety requirements, allowing them to clean during your working hours, using cordons and appropriate safety measures. We can also undertake out-of-hours cleaning to avoid any interruption to your business.
Our experience ranges from pavement cleaning and graffiti removal to major contracts for coating removal paint on large buildings and structural steelwork. From high-pressure water and eco-friendly blasting systems to spray and brush painting systems, we are able to provide solutions for all requirements.
Who We Work With
We work with homeowners, local councils, architects, construction professionals, Retail sectors, Garage fourcorts sector, Industrial sector and building contractors across the United Kingdom.
Doff Steam Cleaning
steam cleaning is probably the safest way to clean any substrate without causing any damage to the surface being cleaned. The steam/superheated water will remove moss, algae, fungi and other biological matter and will also kill off spores.
The benefit of using superheated steam on your buildings cleaning project is the fact that no harsh pressure or chemicals are used to clean the substrate and therefore no damage can occur.
High temperature and low-pressure cleansing for intricate and detailed surface removal of paint, graffiti, algae and general dirt and grime
Commercial Jet Washing
Pressure washing is an efficient method of deep cleaning large surfaces, restoring them to a like-new state. The high-pressure jet washing is gentle enough to clean without causing damage, but also strong enough to remove stubborn stains and debris without the need for abrasive chemicals.
Pressure washing is the use of hot or cold water to remove contaminants from a surface. We use flat surface cleaners to clean large areas - often with jets - and lances to clean vertical surfaces and hard to reach areas.
Pressure washing is suitable for both porous and non-porous surfaces.
We have a team of highly trained staff who specialise in commercial jet washing. We offer this service across the United Kingdom.
Contact us below to find out more about jet washing and to receive a free quote.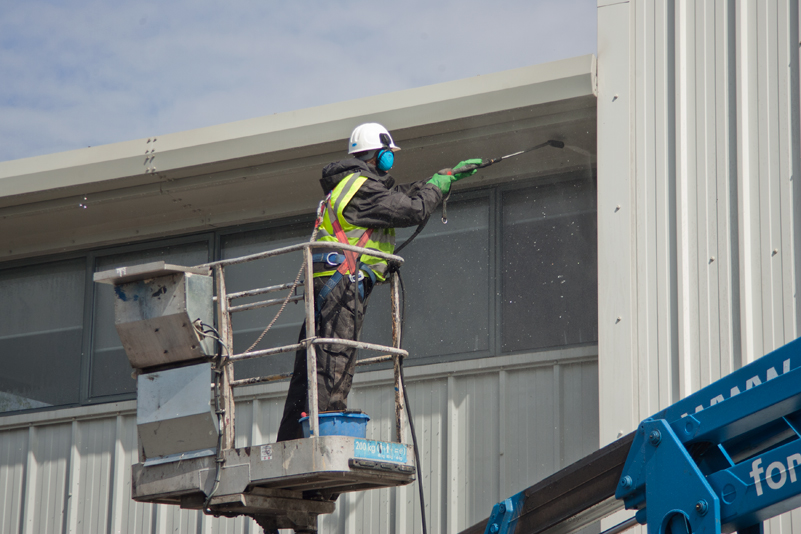 Powerful method of cleaning masonry, brick and stone
The TORC cleaning system is a highly efficient cleaning system designed for the gentle removal of carbon sulphation, brittle paints, limescale and more. TORC has evolved from the popular JOS system and it creates a gentle swirling vortex utilising low volumes of water, fine inert granulate and air.
When used by our trained operators, the TORC vortex cleaning system delivers amazing results, when cleaning brickwork, masonry and stone. It is the recognised and preferred method for stone cleaning by historic stone restoration contractors and other such specialist organisations across the United Kingdom.
Ready to Get Started?
How can we help you?
Talk with us for your project
If you are interested in our services or have a cleaning issue you would like to discuss, please call us or send an email using the form below
Total Clenz LTD has expanded its operations to cover the whole of the UK. From a one-off graffiti removal, to a regular multi-site cleaning project we can help.
33 Sycamore Grove, BA14 0JB Trowbridge
7:00 - 17:00 (Mon-Sun)
01225 308 147